A Talk About PTSD
Featuring Not One Forgotten & Semper K9
When: 14 November 2022 @ 7PM
Where: The American Legion Post 423
           28 Legion Road, Oak Ridge, NJ 0743
In honor of Veteran's Day 2022, please join Jefferson Township Connect for a talk about PTSD. Veterans will share their stories of helping other vets and their families and raise awareness for PTSD and suicide prevention.
Coffee and treats will be served.
Don't miss Pete, the service dog!
For more information, please contact [email protected].
Learn More
Our Goal
We are pushing to educate the general public on Veteran PTSD (Post Traumatic Stress Disorder) and Veteran suicide.  We facilitate Peer to Peer meetings to help Veterans reconnect with other Veterans and possibly air out some things among brothers and sisters. Family members, spouses, friends or anyone (other then Veterans) are affected by PTSD and/or Veteran suicide.
All of our proceeds go back into the cause to help Veterans, and their family members, suffering from PTSD, take them on trips, bring them to events and help them get out into public.  We assist those in need in getting the help they need by self advocating and getting them to feel empowered enough to handle life on their own but knowing at the same time that they are not alone and have support when needed.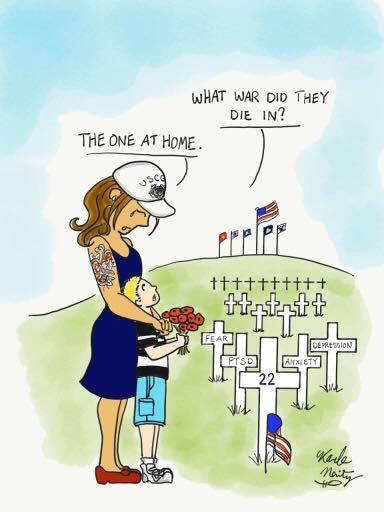 You're Not Alone
If you would like information on our groups or upcoming events please reach out to us.