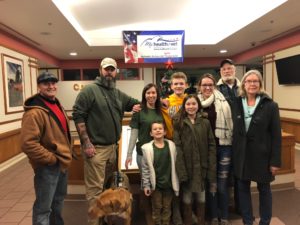 Meet the Team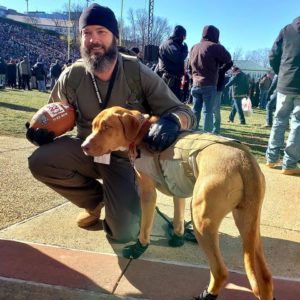 Jason "HeavyD" Daunton (and Pete)
Founder & President
Jason was a member of the Army's 1st Armored Division 4/12 and 2/6 Infantry Scout/Sniper platoon, stationed in Baumholder, Germany.  He completed two tours to Bosnia conducting long range reconnaissance missions, guarded mass grave sites.  He was in the gunner's hatch of a HUMVEE when it struck a landmine causing his mild/moderate T.B.I. (Traumatic Brain Injury).  After his second tour he left the Army and attended John Jay College of Criminal Justice in Manhattan NY, before entering the Law Enforcement field.  He spent 17 years as an LEO and had to suddenly retire in 2017 due his PTSD which he attempted to mask with addictions.
After multiple doctors, therapists, rehab, IOP (Intensive Out Patient) programs and a 4 month stay at East Orange and Lyons VA hospitals, Jason talked to one of best friends (At the recommendation of his wife Mary), Scott Dorrler and they started Not One Forgotten.  Jason's goal is to help Veterans and their family's utilizing his experiences he has gained over the past almost three decades, as well as raising awareness for Veterans PTSD and Veteran Suicide Prevention.
Scott Dorrler
Co-Founder & Vice President
Scott and Jason met in High School were they ran in some of the same circles and played football.  Scott went on and entered into Law Enforcement.  He married his beautiful wife Mary and they had two children.
When Jason approached Scott about starting NOF he didn't hesitate, wanting to do whatever he could to help the cause.
Mary Daunton
Secretary 
Mary is the proud wife of Jason and has almost 2 decades of experience in PTSD, being married to Jason and helping him through his struggles.  She did not hesitate when Jason wanted to start Not One Forgotten and she volunteered to be the Secretary.  She helps moderate the family and friends Peer to Peer group.
Charlene Daunton
Treasurer
Charlene is the mother of Jason and has been by his side through out his life and his struggles.  She remembers the phone call from Jason when he was heading out on his first deployment and he had to say "Good Bye" because there was a possibility he would not ever get the chance to see her again.
When Jason returned she was right there for him when he was struggling dropping everything to do what she could to save her son.  She loves to connect with veterans and remind them they are not alone and there is hope.
Dave Daunton
Sgt. At Arms
Dave served in the Army and a Pershing Missile Azimuth Laying Specialist stationed on the borders of East and West Germany.  After completing his time on active duty he came home and continued his service as a Tank Commander in the National Guard.  Dave jumped at the idea to pay it forward and support his fellow veterans to help prevent further suicides.
Mary Dorrler
Trustee