3rd Annual Not One Forgotten Ruck March
When: TBD (Tenative weekend of 18-19 July 2020)
Where: Phillipsburg High School (cross country course)
           1 Liner Dr. Phillipsburg, NJ 08865
Time: Registration begins 0730 hrs
         Ruck kicks off at 0900 hrs
Cost: $25, $30 day of.
T-shirts can be special ordered on the day of unless you preregistered prior to the original date in July.
Register on Active.com
Please join us for this family friendly event and help us spread the word to our area veterans that they are not alone in their fight at home.  Help us fight veteran PTSD and veteran suicide!
Food, vendors, music and more!!
Facebook@Not One Forgotten
Learn More
Our Goal
We are pushing to educate the general public on Veteran PTSD (Post Traumatic Stress Disorder) and Veteran suicide.  We facilitate Peer to Peer meetings to help Veterans reconnect with other Veterans and possibly air out some things among brothers and sisters. Family members, spouses, friends or anyone (other then Veterans) are affected by PTSD and/or Veteran suicide.
All of our proceeds go back into the cause to help Veterans, and their family members, suffering from PTSD, take them on trips, bring them to events and help them get out into public.  We assist those in need in getting the help they need by self advocating and getting them to feel empowered enough to handle life on their own but knowing at the same time that they are not alone and have support when needed.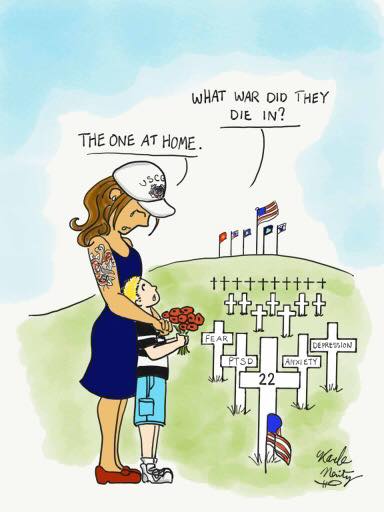 You're Not Alone
If you would like information on our groups or upcoming events please reach out to us.